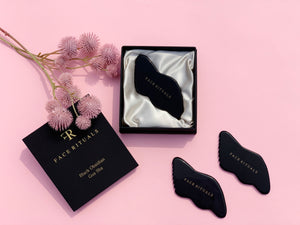 F A C E R I T U A L S
Black Obsidian Pro Gua Sha
Sale price Price Rs. 2,490.00 Regular price
An ancient traditional Chinese treatment, where the skin is scraped intentionally and gently to promote blood circulation and natural drainage of the lymph nodes. Gua Sha facial tools are known as the "natural face-lifters". Glossy Black Obsidian is a natural 'glass' formed by powerful volcanic eruptions and rapidly cooled lava.  Black Obsidian is also known as the 'divine stone'.
Metaphysically, Obsidian carries a unique healing vibration, that wraps an impenetrable shield around you. Eliminating negative energies,stress and anxiety within the self and one's environment.
         This Chinese Facial Tool Is the Secret to Better Skin in 2018 -VOGUE
Benefits
The healing property of the Black Obsidian stone, combined with the gliding actions.
Reduces puffiness

Removes blockages

Reduces inflammation

Visibly lifts and contours

 

Smooths fine lines and wrinkles

Tones and firms the skin to give a youthful glow

Reduces imbalances that causes clogged pores and pimples
Directions

Using light pressure glide the Gua Sha tool for 3-5minutes daily with 3-6 sweeps on each part of the face separately. Use it on a clean skin after applying cream or serum.
*After using Gua Sha Tool you might see little redness on the face. There is nothing to worry about, it is because the blood circulation is increasing and the redness will subside in few hours. 
Care
After every use wipe your Gua Sha Tool gently with a soft damp cloth. Store your Gua Sha in a dry place. Do not expose the tool to harsh chemicals or cleaning agents as it would damage the crystal as well as the polish.
Note
Product is fragile, please handle with care. Dropping the tool may damage the crystals. Colour will vary slightly from the picture that is listed. Due to natural formations in the crystals, each tool will be unique.  
Contents
1x Black Obsidian Gua Sha in luxury box packaging and directions card.
Customer Reviews
05/01/2020
AKSHIT A.
India
Works wonders if used regularly
Reduces fine lines temporarily at first use,regular use will maintain it.