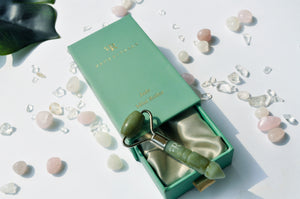 F A C E R I T U A L S
Mini Jade Roller
Sale price Price Rs. 1,090.00 Regular price
An ancient Chinese tool made of natural stone that have been incorporated in skincare rituals as far back as the 7th century. It is designed to massage the face for a cooling sensation, anti-inflammatory and lymph draining effect. Jade is considered as the stone of Eternal Youth. Metaphysically, Jade carries a healing energy that brings harmony and balance.
Benefits
The healing property of the Jade stone, combined with the rolling actions.
Eliminates toxins
Reduces puffiness
Tone-up facial muscles
Minimizes fine lines and pores
Directions
Gently glide the mini roller 2-3 times daily with 3-6 sweeps on each part. Use it on a clean skin after applying cream or serum.
Eyes
Using the mini roller, gently sweep around the eye area by rolling from the upper inner corner of the eye to the ear and then under eyes.
Use it over crow's feet as well as along brow lines.
Mouth Lines
Perform a sweeping roll around lips upwards.
Face Meridians
Gently press the pointed end of the roller on meridian/acupunture points.
Care
After every use, wipe your Crystal Roller gently with a soft damp cloth. Store your rollers in a dry place. Do not expose the rollers to harsh chemicals or cleaning agents as it would erode the finish and polish.Do not soak the roller in hot water.
 Note
Product is fragile, please handle with care. Dropping the tool may damage the tool and crystals. Color will vary slightly from the picture that is listed. Due to natural formations in the crystals, each tool will be unique.
 Contents
1x Mini Jade Roller in luxury box packaging, directions card.
Customer Reviews
09/28/2020
Lavanya

India
Best quality
Gives you a cooling effect..mini one is good for travel purpose
11/06/2019
Shreya P.

India
superb
i am very happy with mini jade roller it helped in face toning